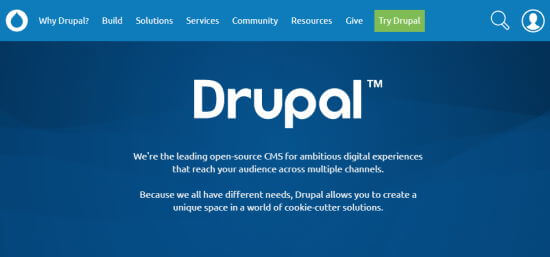 Drupal is another open source CMS platform. It's the CMS behind some major websites, including The Economist's site and a number of university's sites. It's used to make many of the websites and applications you use every day. Drupal has great standard features, like easy content authoring, reliable performance, and excellent security. But what sets it apart is its flexibility; modularity is one of its core principles.
Drupal is a good option for developers, or for people able to hire a developer. It's especially good if you're aiming to build a highly customized site that needs to handle a lot of data.
You can host a Drupal site on Techvila. We offer free installation and can even help you transfer an existing Drupal site.
Pros:
It's easy to add content on Drupal. The custom content types are flexible and offer plenty of options.
There are lots of different modules available that you can add to your site (these work like WordPress plugins).
Support is available via community support options similar to other popular platforms like Joomla and WordPress
User management is easy, with a built-in system where you can create new roles and specify their permissions.
Cons:
With Drupal, it can be tricky to figure out how to change the appearance of your site or add extras. It's definitely not as beginner-friendly as WordPress.
Most Drupal websites have a heavily customized theme created by a developer, which can be very expensive.