How to backup your website using cpanel?
If you've just signed up for a new web hosting, chances are it's going to run on cPanel. Saying that something like 90% of all web hosting companies uses cPanel wouldn't be an overstatement. So this is where the following cPanel tutorial comes into play.
What is cpanel?
cPanel is a web hosting control panel developed by cPanel, L.L.C., an American corporation. The software provides a graphical interface and automation tools designed to simplify the process of hosting a web site to the website owner or the "end user".
Techvila provides cpanel with all web hosting plan and website design packages.
If you've ever had a phone or computer die on you, you know how devastating it can be if you haven't backed up your data.
Now imagine the same happening to your website. This is perhaps even worse since it's very likely your website is your business.
Luckily, cPanel makes it incredibly easy to keep this tragedy from happening by giving you a chance to back up your site manually – any time you choose.
💡 Note; Some web hosts will handle backups for you automatically. Check with your hosting provider to make sure. Still, learning how to back up manually can prove a valuable skill in the future.
To start a backup, click the "Backup Wizard" icon that's in the "FILES" section of cPanel.

You'll see this screen: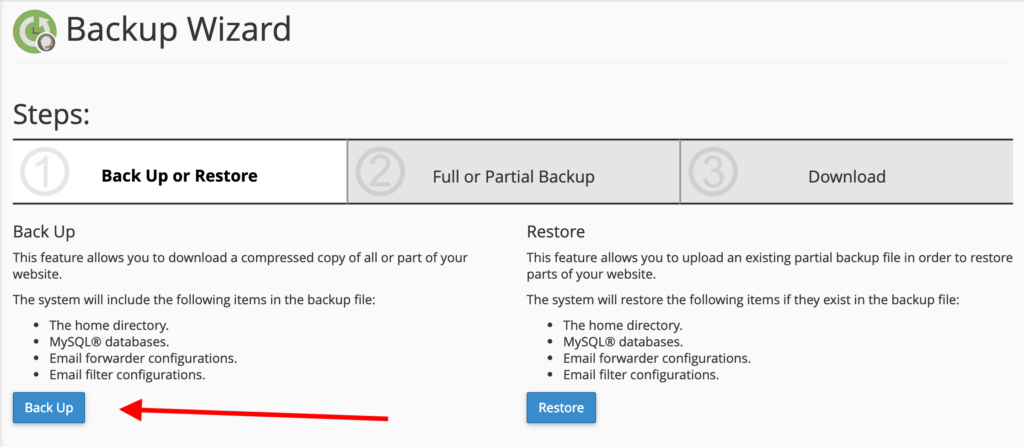 Click on the "Back Up" button to start the backing up process. You'll be shown a screen where you have the option to choose whether you want a full backup (all the files and configurations on your websites) or partial backups (home directory, MySQL databases, email forwarders & filters).
To make it easier, back up your entire account and save it to an external hard drive or another secure location.

Once the backup completes, you'll be able to download it.